---
Organic Metropolis of Nuremberg
The world's leading trade fair for organic food - BIOFACH in Nuremberg. Exclusively presenting certified organic products, the fair takes place at the beginning of every year. It is no coincidence that BIOFACH is based in the Franconian capital. Nuremberg has long since embraced organic! There is a lot going on to promote organic in Nuremberg itself and further afield. With the aim of further strengthening the organic sector in the region in future, the City of Nuremberg, Bluepingu, Hubert Rottner-Defet and NürnbergMesse have combined their organic projects under the umbrella of "Nuremberg the Organic Metropolis".
---
BIOFACH in Nuremberg
It is now roughly 30 years since the first BIOFACH in Nuremberg, with the city set to welcome more than 50,000 trade visitors from across the world to event every year. Their shared goal: the search for innovative organic products and inspiration. The fair attracts a steady stream of representatives from politics and associations, as well as many key thought leaders. Because they all know that building up a well-established organic sector – and a new cornerstone of the German economy – will only work if everyone works together.

Everyone attending BIOFACH shares a passion for the highest quality food and a desire for a more environmentally sound approach to nature. German and international visitors meet to exchange ideas, with the fringe congress during BIOFACH providing a recognised platform for knowledge transfer and debate, further increasing visitor numbers. This is hardly surprising, given the status of organic as a market of the future.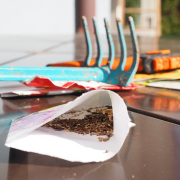 Enlarge picture
The BioFach trade fair itself, as a specialist event, is only open to trade visitors. In order to involve people in the region, however, a fringe programme of events "BIOFACH meets Nuremberg" has been arranged. This includes events on how to achieve a sustainable economy as well as the Nuremberg Seed Festival. There is also a painting competition for local school children in their fourth year at primary school, helping to spread the message in schools too.
---
Organic offers great potential for the Metropolitan Region
What makes BIOFACH so popular is the high-quality mix of innovative organic products, future trends and expert opinions with international significance. The fair has long been an important flagship event shaping the image of the Metropolitan Region of Nuremberg.

The message to the world: Nuremberg is organic. And it's true. It was back in 2003 that the city fathers recognised the huge potential just waiting to be untapped. For local communities, for agriculture and for the local people. The decision made back then to support organic farming, organic food and organic enterprises in general is already bearing fruit. Today, there are more than 2,000 certified organic companies, and the number of agricultural operations that have switched to organic methods has more than quadrupled since 2008 (from 2.5% in 2008 to 12% in 2014). This also brings advantages for the local population, with higher quality drinking water and food products, for example.

The organic market has become an important future-proof economic factor for Nuremberg. It is therefore only logical that the city should be a founder member of the Network of German Organic Cities, and Nuremberg is also the only German member of the European Association of Organic Cities (Città del Bio).
---
Regional food policy boosts organic
Another hot topic for the StadtLandBio congress during BIOFACH: how can local communities help to promote the organic market even further? There are many starting points, and these are already being implemented in Nuremberg:
Inclusion of a defined proportion of organic foods in the menus of public institutions such as local authorities, schools and nurseries.
Preference given to providers of organic products when allocating stalls at markets
Introduction of a management course focusing on the organic sector
Enlarge picture
And, most importantly, by means of various different events throughout the year, people are constantly being reminded about the organic message, so that their direct experience of organic foods and producers can boost demand for organic products. The city is working closely with numerous associations, as well as with the Chamber for Industry and Commerce and the Organic Guild.
Nuremberg is thus rightly viewed in the world as an organic metropolis and is now also a highly sought-after partner internationally for crossborder organic projects.
---
More Information