---
Real estate market
Nuremberg: The ideal location with the best prospects!
Positive market data and attractive investment plans should come as no surprise, given Nuremberg's excellent credentials as a base for high-tech, manufacturing and innovative services. Success breeds success, hence Nuremberg's rise to become a leading class B city in Germany for real estate and investment. Nuremberg is in high demand among major investors. With a transaction volume in excess of two billion euro in 2019, a growing population and first-rate economic data, Nuremberg has a great deal going for it. Read more in the recent published market report investment 2019/20.
In terms of real estate and investment, Nuremberg is not simply benefiting from the over-heating in the markets of class A cities. Rather, Nuremberg has made itself highly desirable to incoming investment and businesses. Companies value the outstanding innovation environment and excellent transport links, while people appreciate the high quality of life in the Metropolitan Region of Nuremberg.
Dynamic investment location
In 2019, Nuremberg registered a transaction volume of €2.1 billion. Just a few years ago, nobody could have dared forecast this figure for Nuremberg, but it represents an increase of 155% in the transaction volume since 2015. This result is no accident – success attracts success: businesses, project developers and investors. A constantly increasing population, excellent economic environment with continually rising economic output and record levels of employment form the conditions that have transformed Nuremberg into a highly attractive target for investment. High levels of demand are chasing an increasingly short supply; especially in the office and residential asset classes, available buildings have become scarce.
The strong demand for properties in Nuremberg is not only allowing investors to profit, as the city too becomes increasingly attractive as a location in which to live and do business. Project developers and investors are investing more and more in forward-looking, innovative projects that define the look of the city. Large one-off transactions are no longer a rarity and have contributed significantly to the high transaction volume in 2019.
Enlarge picture
Market Report Investment 2021
This report is an impressive demonstration of the high level of investor interest in the Nuremberg real estate market, as well as providing the market transparency necessary for a successful investment location. All data in this report were compiled and assessed by Küspert & Küspert Immobilienberatung GmbH & Co. KG and made available to the City of Nuremberg.
Market Report Investment 2021

<https://cms1.stadt.nuernberg.de/imperia/md/wirtschaft/dokumente/publikationen/mb_immobilieninvestments_2021_d_web.pdf>

(PDF, 1.2 MB)
Real Estate Market Report confirms dynamic market performance
The amount of floor space changing hands in recent years shows how attractive the Nuremberg office market is, for example. For the third year in a row, more than 100,000m² of office space shifted in 2018. The total take-up of 138,000m² was twice as high as in 2015. At the same time, vacancies in this segment fell to a record low of 2.9%, which basically equates to full rental after taking account of a natural fluctuation reserve. Demand for new working environments and modern office space is correspondingly high. Enticing new office projects such as the Bürocampus Marienzeile, the Orange Campus and expansion of the Frankencampus are adding urgently needed capacity to the city.
---
Enlarge picture
Market Report real estate 2021
Nuremberg is an attractive and above all stable location for real estate. Its low volatility ensures predictability. The real estate report offers a current overview over the most important facts and data on the diverse segments of Nuremberg's real estate market.
Market Report real estate 2021

<https://cms1.stadt.nuernberg.de/imperia/md/wirtschaft/dokumente/gewerbeimmobilie/marktbericht_immobilien_nuernberg_marketreport_realestate_2021.pdf>

(PDF, 2.7 MB)
Other market segments are also seeing demand for attractive real estate outstripping current supply, despite numerous newbuild projects. The population is growing at a steady rate, while a successful and stable economic landscape and high levels of satisfaction among Nuremberg's businesses with their location are helping to drive this trend. As a consequence, rental and sales prices are rising across all asset classes. In the residential segment, there is a need for smart redevelopment, increasing apartment density, to meet demand. Living and working spaces are therefore moving much closer together. Good examples of this can be found in The Q, Tramlofts, Quartier Langseestraße and the Seetor City Campus projects.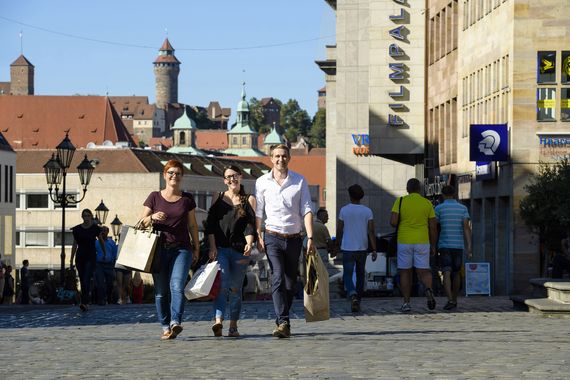 ---
---
Real Estate Service
Nuremberg offers a varied range of office and commercial real estate for a wide spectrum of uses.

The team of the Office for Economic Development supports companies in their individual search for locations with a broad survey of the market for private and municipal commercial sites or properties. Contact can be arranged with the owners if desired.

A selection of current office and commercial sites is listed on the office and commercial real estate map available for downloading. We will be pleased to send you information about other properties on request.

The business promotion team creates transparency in the Nuremberg real estate market and provides key facts and figures.
Office and Commercial real estate
Land and properties for office and administrative use, industry, trade and production in Nuremberg
Contact
Are you looking for a commercial plot or office space in Nuremberg? Do you have definite requirements concerning position, amount of space and type of space? If so, please contact us.
City of Nuremberg
Office for Economic Development
Telephone: +49 (0)911/231-29 98
Fax: +49 (0)911/231-27 62
To encoded transmission of your message:
Contact Form:
</global/ajax_kontaktformular_en.html?cfid=70243>