---
Nuremberg – City of Peace and Human Rights
These guidelines were adopted by the City Council, in response to our city's history, in particular during the times of National Socialism and as a task for the future, both for our municipal politics and for civil society.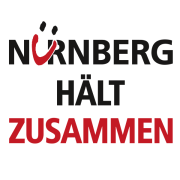 This is why we take a firm stand against any Islamophobic or anti-Semitic statements and activities. Against extremist acts of terror and attempts to intimidate.

Nuremberg is an open-minded, tolerant and diverse city which distinguishes itself by the respectful cooperation of its citizens, its religions and its cultures.
For us, these values are not just guidelines, but everyday practice. This is why we say: "Nürnberg hält zusammen" ("We stand together") and this is why we won't allow a division in our society.
More information and events
The following page summarises upcomming events and current information about "Nürnberg hält zusammen" (in German).
Human Rights Office has moved to new rooms
The Human Rights Office has moved to the city hall. Our new address: City of Nuremberg - Mayors Office, Fünferplatz 1, 90403 Nürnberg, Germany. Phone numbers and email addresses remain unchanged.