---
Sustainability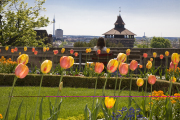 Enlarge picture
For quite some time, sustainability has been a focus for the City of Nuremberg. The start of the Nuremberg "Agenda 21" in 1997 can be seen as the beginning of the on-going sustainability process. In 2001, the City concluded a sustainability pact with regional companies, and since 2003, has presented annual awards for sustainable economic management.
In 2004, the City Council adopted the general resolution "Being more – City of Nuremberg Commitment to Sustainability", and in 2005, this was followed by a comprehensive Nuremberg catalogue of sustainability indicators.
Sustainable Nuremberg
In October 2009, based on this catalogue, the Environmental Department published the first City of Nuremberg Sustainability Report. This comprises three sections:
ecological sustainability
solidarity-based urban society
sustainable economic management
It documented the development towards increased sustainability between 2005 and 2008, with numerous graphs, tables and facts.
Sustainability Monitoring
Currently, a monitoring system across all municipal departments is being established for further documentation and evaluation of the sustainability process in Nuremberg.
Contact:
---
Dr. Susanne Sproesser
Scientific Officer
---
Telephone: + 49 (0)911 / 231 - 5942
Fax: + 49 (0)911 / 231 - 3391
To encoded transmission of your message:
Contact Form:
</global/ajax_kontaktformular.html?cfid=104908>