---
Iris Berben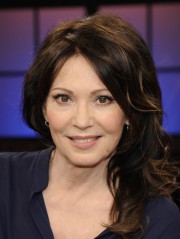 Enlarge picture
Actor, former president of the German Film Academy, ambassador for the "Room of Names" in the Holocaust Memorial, holder of the Officer's Cross of the Order of Merit of the Federal Republic of Germany, since 2018 Member of the jury of the Nuremberg International Human Rights Award
Iris Berben, born 1950, is one of the most popular actresses of German film and television. Throughout her career, she has received numerous awards and accolades for her artistic achievement.

Iris Berben is strongly committed to the fight against forgetting, right-wing extremism and anti-Semitism. In her political commitment she serves as Ambassador for the "Rooms of Names" at the Holocaust Memorial in Berlin.

"By continuously expanding the Room, we are building a bridge between the past and the future. The multimedia presentation in the Room of Names and on the internet helps all future generations not to forget the individual fates behind the holocaust victims." (Iris Berben)

Moreover, she is committed to tolerance, diversity and democracy. In 2017, she served as a delegate to the Federal Convention for the election of the Federal President. Iris Berben is holder of the Officer's Cross of the Order of Merit of the Federal Republic of Germany (2003).